Stitch Lounge is CLOSED
but the band sews on with our books: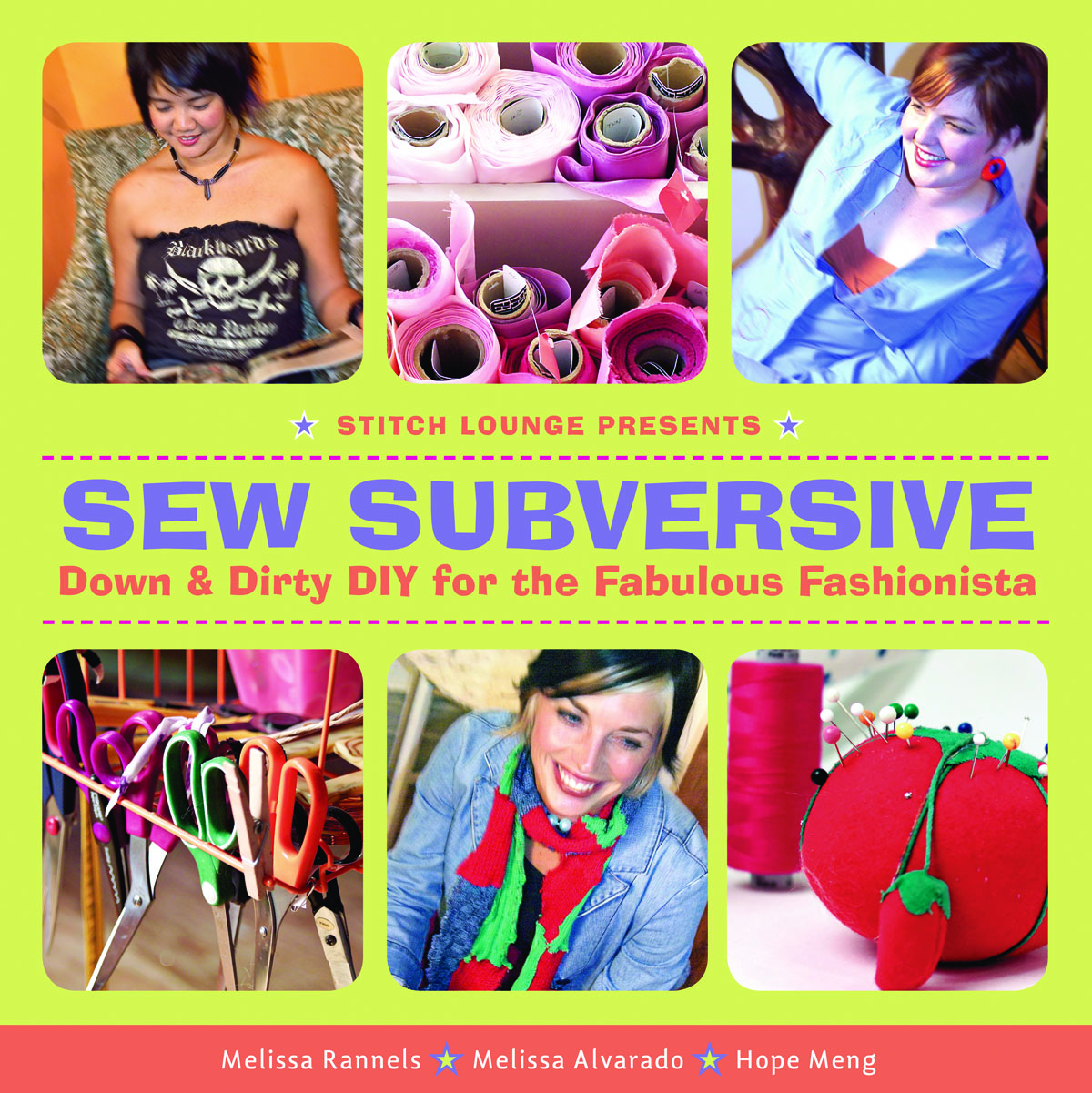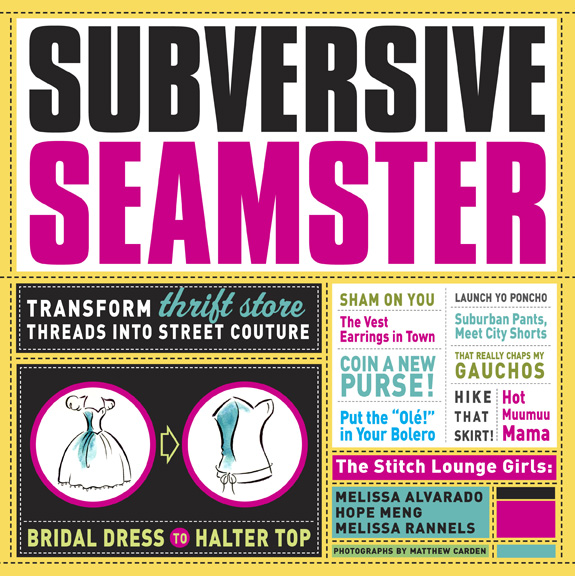 The History of Stitch Lounge
On June 3rd, 2004, three hopeful soon-to-be-Stitch-B*tches held hands, jumped, and opened the first sewing lounge ever. (Seriously, ever.) Located near the Hayes Street corridor in San Francisco, Stitch Lounge's mission was to provide an inspirational, supportive environment for people to express their individuality by creating their own clothing and clothing accessories. By supplying tools, supplies, resources, instruction, and a professional (yet comfortable) workspace, Stitch Lounge created an atmosphere that encouraged the free exchange of ideas between all skill levels.
Melissa, Hope, and Melissa (aka The Stitch B*tches) first conceived Stitch in 2001 after spending many evenings in their own version of a sewing circle. All three were lifelong self-taught seamsters, and between them they were able to come up with the equipment and tools that they needed. But what they lacked—and what they sought to create with Stitch Lounge—was a space where they could expand their circle beyond the confines of their apartment living rooms. The initial concept was to quite literally create a sewing lounge, where seamsters could come and go as they pleased, interacting with others and taking advantage of the kind of tools and equipment that they couldn't fit into their apartment (like an eight foot cutting table) or that they couldn't quite afford to buy outright (like a serger or industrial machine).
This initial concept was the basis for what Stitch Lounge would become. But beyond furnishing a battery of sewing machines, sergers, cutting tables, and an industrial machine; Stitch would offer lessons for seamsters of all levels and a boutique store for local designers (many of whom produced their materials using machines in the lounge). Over the course of the four and a half years that the store was open, Stitch Lounge's classes helped thousands of men and women start sewing, and hundreds more hone their craft in a variety of ways. Local designers benefited from having a friendly outlet with knowledgeable, like-minded shoppers. And Melissa, Hope, and Melissa successfully expanded their sewing circle to include many who they never would have met otherwise.
As time went on, other sewing lounges started to open across the country; and Stitch Lounge was part of the craft revival that swept the nation in the mid-2000s. While the store was open, the Stitch B*tches wrote two books—Sew Subversive: Down N' Dirty DIY for the Fabulous Fashionista and Subversive Seamster: Transform Thrift Store Threads into Street Couture—with acclaimed publisher Taunton Press. Both books were voted by the Young Adult Library Services Association as "Quick Picks for Reluctant Young Adult Readers"!
From Stitch's B*tches—"We created a home for a wonderful and vibrant community of seamsters in the Bay Area and beyond, had an awesome opportunity to write two fabulous (if we do say so ourselves) books, went on a book tour to spread the sewing gospel, and did our very best to get creative enthusiasts to shed their fears and get their SEW ON!
We couldn't be happier with the community we're a part of, the lessons we've learned and most of all, the incredible movement we've seen towards a DIY lifestyle. It fills us with great joy that the mission statement we created at the very beginning, before the first sewing lounge had ever been created, has been met. We achieved so much more than we ever imagined and so it is with great pride that we look forward to our next life chapter where we focus on our families and (non sewing) careers."
After nearly five years in business, several awards, being featured in several books and national media, and nurturing unforgettable relationships with staff and supporters, Melissa, Hope, and Melissa made the difficult decision to shut down Stitch Lounge in late 2008. Their sewing lessons and DIY spirit live on via their books, which are available for purchase at amazon.com and in local bookstores!
---
Stitch Lounge's Resume
June 2004 to September 2008
Books:
Sew Subversive: Down N' Dirty DIY for the Fabulous Fashionista
Subversive Seamster: Transform Thrift Store Threads into Street Couture
Awards:
In print:
Bernina's Through the Needle Magazine
Bay Area Business Woman
On TV: